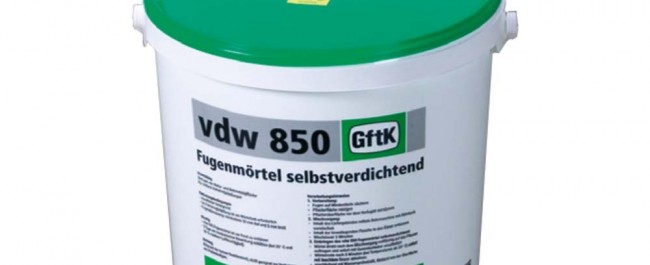 GftK Pavement Jointing Mortar Best Choice
GftK's vdw 850 jointing mortar was selected for a sensitive project in Hitchin, Hertfordshire.  The old Market square project presented various challenges to dealing with the 750 sq. meter area of time worn granite and basalt setts.  Weather and disruption of business were among the many. Re-jointing was specified over re-laying and Vdw 850 was selected over several possible materials.  Gftk's vdw 850, is the product for light traffic and sidewalks.  This has a medium permeability rate of 2 quarts / min/ 10 sf at 20% joints. Its compressive strength is 3,625 psi at 20% joints. (High performance for medium traffic)
Thanks to Tony McCormack of the pavingexpert.com and NCC Streetscapes, this video shows the preparation and techniques in rejointing an existing small format streetscape. The product is GftK's vdw 850 self compacting epoxy resin jointing mortar. The paving contractor was RPB Ltd. Of Letchworth
Click Below to Watch Video: 
http://www.youtube.com/watch?v=UPAnGKMk0CQ
GftK is the clear European market and technology leader in high performance pavement jointing mortars for use with all types of natural stone and quality concrete block paving – for both new work and refurbishment projects. The product range includes systems for all different sizes of joint and all different traffic loads – from patios to commercial pedestrian areas, to paved areas with occasional light to heavy vehicles, plus heavy vehicle turning, unloading and hard standing areas. The GftK Jointing Mortars are all produced in Germany, fully in accordance with ISO 9001 / ISO 14001. The GftK range includes paving jointing mortars that are ideal for garden patios and pathways, driveways and car parking areas, town center streets and pavements, commercial developments, historic market squares, and in a variety of shades to suit the clients' needs.  It can be installed in the rain and while standing up which makes the work go faster.
 The Product Data Sheet for vdw 850 can be downloaded below:
Stone Paving Technologies is the US exclusive importer/distributor of GftK.  Milestone Imports, the foremost source of Porphyry paving products, is available in United States to provide full technical assistance on GftK pavement jointing mortars as well as Porphyry paving stone choices. On-site support is also available.  For more advice or assistance with your specific project including the right jointing product, the estimated consumption, and the estimated time required for application, plus any other aspect of paving jointing, grouting, pointing or repointing please call Miles at 866.641.1999 or contact through    orcontact through  www.milestoneimports.com