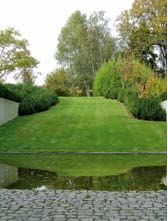 Porphyry – Integrating Stone and Water
The notebook from Pierres et Marbres called Stone in the Garden – Water 06 is a beautiful treatise on the design of the landscape.  The projects presented in this notebook illustrate some of the natural and contemporary ways of integrating stone and water into a garden and the spiritual enrichment with stones like Porphyry.  Stone is at the border between nature and today's building materials, linking sky and water.  There is even a cobblestone beach among the designs.  Porphyry cubes like Patagonia Storm Grey could be used in this design.
Another in the fabulous Stone Notebooks series is available here. This 20 page delight is full of design commentary, drawings in plan view and section, and multiple photographs of selected projects.
The Notebook can be downloaded here:
From the Notebook:
"For 20 years, PIERRES  et MARBRES de WALLONIE has been disseminating accurate and detailed information about all the facets of natural stone in Wallonia: history, products, traditional and contemporary uses, technical expertise, documentation, restoration.
The STONE IN THE GARDEN notebooks are intended to be practical discovery tools for garden architects and landscape designers but also for the simple garden lover. Many and varied ways of incorporating natural stone into our surroundings are proposed, drawing on projects created by Belgian designers and presented in a detailed manner.
This notebook is devoted to the use of natural stone in landscape creations enhancing the use of WATER. It is the fruit of attentive meetings, warm visits and lingering looks at the gardens surrounding us and presents achievements chosen for their originality or their classicism, their simplicity or a specific construction detail. Works of landscape designers who like to share their creative outbursts of their experiences, they invite us, above all, to step in and enjoy garden tales." 
THE STONES AND MARBLES OF WALLONIA
The PIERRES et MARBRES de WALLONIE association provides information about stone and its applications to the general public, architects, contractors and public authorities.  The promotion platform for natural Belgian stone recently celebrated its 20th anniversary. The association's target public remains architects, businesses and public services, but also private individuals who have access to quality information on stone and its applications, both in old buildings and in more contemporary constructions.
Those activities include the publication of works and brochures, the organization of events, exhibitions and conferences and participation in national and international trade fairs. Wallonia is the predominantly French speaking southern region of Belgium.  It is governed as the Walloon Region, which makes up 55% of the territory of Belgium but with only a third of its population.
Porphyry's composition determines its high compression strength, resistance to stains, slip resistance, and high freeze/thaw ratings.  The stone is the most popular paver in Europe, and is favored for its flexibility in design, beauty, durability and low maintenance requirements. ADA Compliant Porphyry pavers are also adaptable to a permeable paving set. The stone is by far one of the most durable pavers in the world.  These beautiful materials are available from Milestone Imports.   Milestone supports the creativity of architects, planners and designers. Porphyry offers surfaces of various finishes and mixed colorings, tending towards tones of grey, gold, violet and red, depending on where it is extracted.  The products are available in North America from Milestone Imports.  –  www.milestoneimports.com