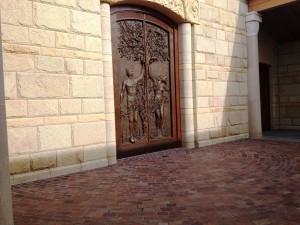 Porphyry Stone Among Incredible Art
Porphyry in this installation is paired with other beautiful stones and mosaics for an amazing experience.  When I have visited other Porphyry installations, the Porphyry is the prominent feature.  At this beautiful church, the Porphyry shares the spotlight with stone carvings, stone and glass mosaics, frescoes and a one of a kind pipe organ.
The church overlooks Rock Harbor near Orleans, Massachusetts on Cape Cod. The main building material cladding is Kasota limestone or
simply, 'Kasota stone'.  It is a dolomitic limestone found in southern Minnesota This sedimentary rock is part of the Oneota Dolostone Formation of southern Minnesota and is approximately 450 million years old. This particular limestone is rich in dolomite and magnesium  making it resistant to weathering, and
it is thus widely used as a building material. Its name is taken from Kasota  township where the stone has been quarried. This is the same stone that clads the Smithsonian Museum of the American Indian in Washington, D.C.
Many sizes of Porphyry stone tiles  supplied by Milestone Imports are used in several places throughout the exterior.  They compliment the other stone and art in this setting.  They exist side by side with a multiple of ancient craft offerings by artisans from all over the globe. The hardscape installation is truly artwork and fits side by side the rest of the art in this contemporary expression of an ancient fourth-century style of architecture.  You can visit anytime, but try to get there for one of the many scheduled tours.  You will find out about the many artists that contributed to this wonderful church.
Porphyry's composition determines its high compression strength, resistance to stains, slip resistance, and high freeze/thaw ratings.  The stone is the most popular paver in Europe, and is favored for its flexibility in design, beauty, durability and low maintenance requirements. ADA Compliant Porphyry pavers are also adaptable to a permeable paving set. The stone is by far one of the most durable pavers in the world.  These beautiful materials are available from Milestone Imports.   Milestone supports the creativity of architects, planners and designers. Porphyry offers surfaces of various finishes and mixed colorings, tending towards tones of grey, gold, violet and red, depending on where it is extracted.  The products are available in North America from Milestone Imports.  –  www.milestoneimports.com