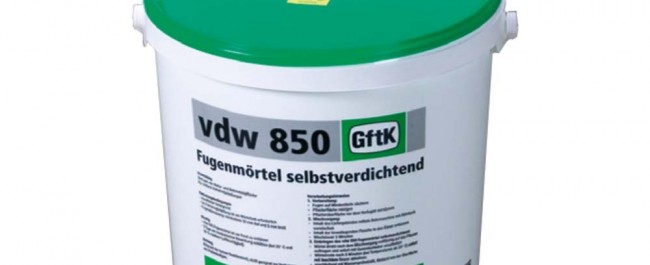 vdw 850 Paving Jointing Mortar ideal for Town Center Porphyry
High performance vdw 850 paving jointing mortar from German manufacturer GftK was used in the streetscape design for a Scottish town center. The paving of Main Street and its surrounding areas in the Bellshill Town Centre redevelopment for North Lanarkshire Council, included Porphyry Granite Setts, Caithness Stone and Grey Granite edging blocks. These have all been laid by RJ McLeod (Contractors) Ltd. of Glasgow, using the unique vdw 850 Paving Jointing Mortar obtained in the UK and Ireland from NCC Streetscapes.  In the United States the specialty jointing mortar products from GftK are available from Stone Paving Technologies.
5,000 square feet of Natural Porphyry Granite Setts plus Grey Granite Edging Blocks and Setts have been used for the entrance areas to local businesses and other areas in the Bellshill Town Centre.  RJ McLeod (Contractors) Ltd of Glasgow undertook the paving successfully and on time by using GftK's vdw 850 Paving Jointing Mortar.
Bellshill (pronounced Bells-hill) is a town in North Lanarkshire, Scotland, 10 miles south east of Glasgow city center and 37 miles west of Edinburgh.  Since 1996, it has been situated in the Greater Glasgow metropolitan area. The town has a population of 20,705.
Vdw 850
The Porphyry Granite Sett paving joints had to be securely grouted, so that the paving is able to maintain its function and good appearance for many years, despite regular cleaning with machines. It also had to be fully resistant to the loadings and freeze thaw action with de-icing salts. The vdw 850 Paving Jointing Mortar can be installed quickly, because it is slurry applied to the pre-dampened setts and self-compacting into the joints.
GftK's vdw 850 Paving Jointing Mortar was chosen because it is extremely durable, and it can easily accommodate all the different traffic loads , including those in the turning area outside of St. Andrews Church. The material is also non-staining, it reduces waste and run-off, and it is suitable for the jointing of many different types of paving, including both pedestrian and vehicular traffic areas. This is because of the relationship between its compressive and tensile strengths, plus a high modulus of elasticity.
The Contractor – RJ McLeod
RJ McLeod (Contractors) Ltd is a civil engineering contractor and one of the UK's leading streetscaping contractors. Their completed projects have received high praise from all parties involved in the projects.  RJ McLeod selected vdw 850 following a detailed evaluation of its performance, and all costs for material, labor and maintenance. This advanced paving jointing mortar can be applied quickly even in wet and rainy weather or at low temperatures, thereby allowing the schedule to be met regardless of the Scottish weather from autumn and into the winter.
The Architect – Land Use Consultants (LUC)
LUC is a 45 year old award winning firm located in London, Bristol, Glasgow and Edinburgh, that is engaged in environmental planning design and management.  LUC works to "understand how people use urban public spaces, and provide them with integrated, functional, beautiful and lasting designs; public realm design should be clear and understandable for all users, spatially stimulating and respond to a pedestrian scale in terms of space and detail. All our work has a strong contextual focus through our understanding of place and our production of locally distinct designs. We strive for solutions that are not only creative and innovative, but practical, functional, sustainable and affordable," according to their website.
Images courtesy of NCC Streetscapes.
Stone Paving Technologies is the US exclusive importer/distributor of GftK.  Milestone Imports, the foremost source of Porphyry paving products, is available in United States to provide full technical assistance on GftK pavement jointing mortars as well as Porphyry paving stone choices. On-site support is also available.  For more advice or assistance with your specific project including the right jointing product, the estimated consumption, and the estimated time required for application, plus any other aspect of paving jointing, grouting, pointing or repointing please call Miles at 866.641.1999 or contact through www.milestoneimports.com