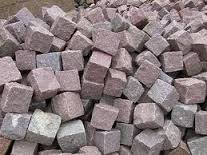 Stones like Porphyry stone cubes are used to create an amazing landscape artform that serves as a children's water playground.  It has been described as rows of stone tiles on a sand dune.  The installation is part of the award winning Soenyudo Park in Seoul, South Korea.
Seonyudo Park was made utilizing the previous filtration plant on Seonyu-do (island) in the Han River to become Korea's first recycling ecological park and opened on April 26, 2002. Within Seonyudo Park, there are many high and low roads, each leading to differently themed areas, including Han River History Building, water quality purification park, time park, and water play facility. natural processes are now used to clean the water. Each basin contains different plant species that can be seen from low-lying walkways, allowing children and adults to enjoy the plant life in close proximity. The water from the basins is channeled to the Ecological Water Playground – a gently sloping collection of spiral mounds and shallow water pools where children can play and parents can cool down on a hot day. Seonyudo Park is particularly popular among children because it has many rare water plants and child-friendly facilities. The ecological water playground uses purified water and has a low water level for children so children can play safely. There is a sandpit and wooden benches nearby.

DESIGN AWARD OF MERIT from ASLA
Seonyudo Park, Seoul, South Korea
SeoAhn Total Landscape, Seoul, South Korea
Client: Seoul Metropolitan Government
"The main design concept for this project was to reveal the geographical and spatial potential of  Seonyudo, which is situated in the midst of the city of Seoul. At the same time, the landscape architect focused on fully evoking memories of  Seonyudo history. The  Seonyudo water purification plant was highlighted by utilizing the peculiar shapes of space and land created by organically composed facilities. Another goal of the project was to convey messages on the importance of the environment and nature to the future."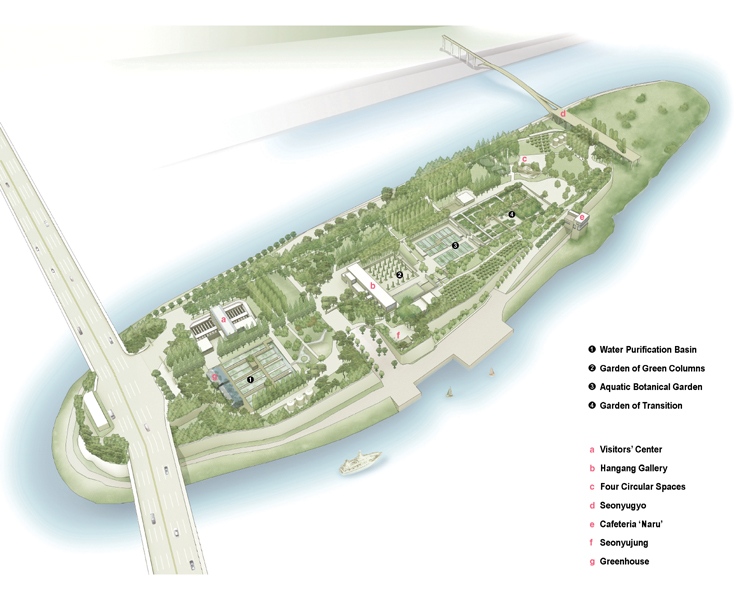 Background
Originally known as Seonyubong Peak, Seonyudo Island was used in the 18th century by poets and philosophers as a site for rest, contemplation and inspiration. The area was not yet an island, just a rocky outcrop on the Hangang River's northern bank.
Following massive flooding in the 20th century, the Japanese colonial administration began a dike construction project. The peak's rocks and boulders contributed to the new embankment and sand at its base was hollowed out for use in a nearby airport project. Continued quarrying led to its complete separation from the riverbank and it was renamed.
In 1965 Seonyudo Island became the structural midpoint of Yanghwa Bridge, one of Seoul's early vehicular river crossings. It was transformed in 1978 into a site for water purification facilities to serve the growing metropolis.
New Seoul initiative
In 1998, the Seoul planning authority introduced the 'New Seoul' initiative, which aimed to provide the city with more green space and to diversify cultural programming. Its mission also included the rehabilitation of the Hangang River's relationship with the city.
This planning push coincided with a general urban makeover in preparation for the 2002 FIFA World Cup. Seoul hosted the 1988 Olympics, constructing facilities such as the Olympic Stadium and the Olympic Village, which are both in close proximity to the river. For the World Cup, the city chose a network of environmentally sensitive public spaces over event-related construction.
The Seoul Metropolitan Government held an international landscape design competition, which was won by Seoul firm Seoahn Total Landscape.

Porphyry's composition determines its high compression strength, resistance to stains, slip resistance, and high freeze/thaw ratings.  The stone is the most popular paver in Europe, and is favored for its flexibility in design, beauty, durability and low maintenance requirements. ADA Compliant Porphyry pavers are also adaptable to a permeable paving set. The stone is by far one of the most durable pavers in the world.  These beautiful materials are available from Milestone Imports.   Milestone supports the creativity of architects, planners and designers. Porphyry offers surfaces of various finishes and mixed colorings, tending towards tones of grey, gold, violet and red, depending on where it is extracted.  The products are available in North America from Milestone Imports.  –  www.milestoneimports.com