GftK jointing mortar can be used in streets, public plaza's, market squares, commercial developments, parking areas, pedestrian areas and for all types of garden patios and landscaping projects.  You select and specify the GftK product that fits your project, traffic load, and permeability situation. The advanced GftK Pavement Jointing Mortars are engineered and produced in Germany.  GftK mortars are the clear technology and market leaders for high performance and high efficiency paving jointing and pointing.
This video shows how to grout a stone sett circle in a decorative driveway paving project at a private residential project in Holmes Chappel, Cheshire UK. The new feature driveway, turning areas, parking and car washing areas, plus patios, have all been laid in Natural Granite Stone Setts and Riven Granite and Sandstone Flags. The Paving jointing for all of these areas is completed quickly and easily with no mess, no waste and standing-up, by the simple slurry application of the unique vdw 800 epoxy resin bound paving jointing mortar.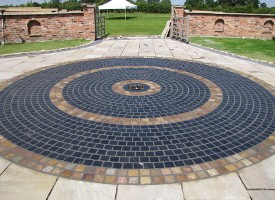 Click on this link to watch video.  Thanks to NCC Streetscapes and Tony McCormack for this great work.
https://www.youtube.com/watch?v=E6hges7Ru-A
vdw 800 is ideal for pedestrian and light/medium traffic loads.  It has an exceptionally high permeability rate of 16 gallons / min / 10 sf at 20% joints. Its compressive strength is moderate at 2,175 psi.
With GftK jointing mortar you can save time and money on every project because you can:
  Work in wet weather and/or low temperatures (from +3ºC)
  Work faster
  Work dust free and prevent mixing errors 
  Work standing up, not on your knees
  Apply Self Compacting joints without staining
  Greatly reduce your cleaning work (at least 75%)
  Much less waste, waste water disposal and sediment run off
GftK Jointing Mortar will provide durable high performance with:
  Full frost and de-icing salt resistance
  Cost effective long-life jointing and permanently filled joints
  No weeds and no boring insects
  Permeable and non-permeable products
  Extensive UK andEuropean references, with many more than 10 to 15 years service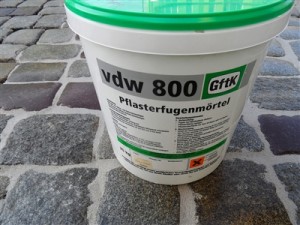 Stone Paving Technologies is the US exclusive importer/distributor of GftK.  Milestone Imports, the foremost source of Porphyry paving products, is available in United States to provide full technical assistance on GftK pavement jointing mortars as well as Porphyry paving stone choices. On-site support is also available.  For more advice or assistance with your specific project including the right jointing product, the estimated consumption, and the estimated time required for application, plus any other aspect of paving jointing, grouting, pointing or repointing please call Miles at 866.641.1999 or contact through www.milestoneimports.com