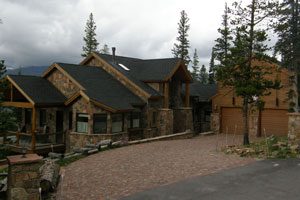 Breckenridge, CO Sitting high on a mountain looking across to the famous ski area the Copper Mt Porphyry works great as part of a snow melt system driveway. The overlapping arc pattern acts as a stabilizing structure as well as offering a bit of grip and a lot of style in a harsh climate.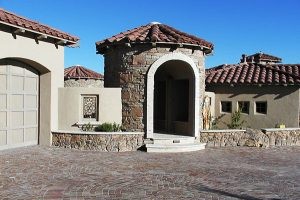 Situated on the bluffs above the Rio Grande River the Copper Mt Porphyry pavers go perfectly with this gorgeous home taking you to another place and time!
It is a mix of patterns, from 4"x4" running bond to circles surrounded by half fans that help define the rolling terrain of this property.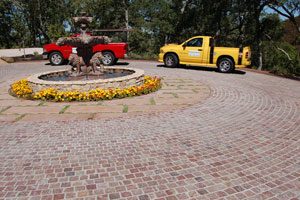 Located high in the hills of the San Francisco Bay Area with views of Mt Diablo in the distance. This Mediterranean style architecture of this residence is a perfect fit for the Copper Mt Porphyry 4"X4" pavers in a running bond pattern creating a radius circling a classic fountain.