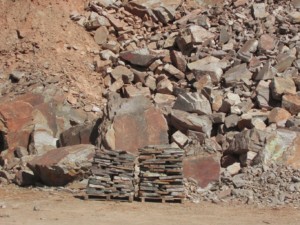 Natural stone quarries occupy a miniscule fraction of the world's land area, but rock-forming minerals constitute more than 90% of the Earth's crust. With such a vast population of rock-forming minerals spread worldwide, we're met with the question, "How can quarrying contribute to a sustainable Earth?


What Is Sustainability?
In 1987, United Nations' Brundtland Commission produced a report and defined sustainability as "development that meets the needs of the present without compromising the ability of future generations to meet their own needs"
With that concept in mind, quarrying operations can offer positive economic impacts for a community by the employment generated through the creation of jobs. In many cases, these jobs are developed in isolated locations with little employment opportunities. What may seem like a small input at the start can produce other benefits as the business grows and expands.
A Background on Porphyr
In 1996, Italian father and son qaurriers Renzo & Fulvio Stenico developed a small-scale Porphyry extraction operation along with limited fabrication abilities in an isolated area in central Mexico. Located about an hour drive on a dirt road from the small city of San Luis de la Paz, it sits up in the mountains near several small villages of indigenous people.

Porphyry quarried for paving stones is found in a limited number of locations around the world. Starting from a pre-volcanic granite forming magma seismic activity, the formation is jolted and causes fissures throughout the granite. This creates a dense material with variable thickness making it less labor-intensive than cutting blocks out of solid formations.

While Porphyry formations are found worldwide, most produce small gravel like-pieces caused by more intense seismic activity. Large flagging slabs which produce formations that are suitable for making paving stones are a rarity!
Porphyry and Paving Stones: What's the Process?
To develop Porphyry that is suitable for paving stones, the operation involves quarrying Porphyry stone from a cliff face and gathering the fallen flagging slab material by a front-end loader. Once the fallen flagging slab is taken to a safe location nearby, it is hand-sorted by thickness and placed on a palletizer for a short trip down the hill to a small stone fabricating factory. 
The equipment in the stone fabricating factory includes hydraulic guillotine, splitting machines, and a small saw shop to cut the stone flagging to specific sizes. The saws need water to cool the blades and direct the slurry caused by the cutting into pits. The water is recycled, and the pits are cleaned out on a regular basis.
This operation has had great success, growing over four times the original operation size. Beginning as an operation which mainly shipped to Italy, it now supplies Porphyry paving stone to major projects in cities throughout Mexico. On top of that, it has expanded to sales throughout Europe, the United States, and Canada with about 120 employees!
Porphyry Paving Stone Across the World: The Sustainable Benefits of a Growing Operation
To achieve this expanded operation in multiple countries, a reliable source of electricity was brought in for the factory, making it readily available to the local villages. 
A medical clinic was built and developed offering care if needed for the quarry and factory operation, and even offers limited government medical care for the local population. Prenatal care and other needed services became available for the first time in this area.
The sustainable benefits of the Porphyry operation just kept piling up, with the employees now on a payroll system and eligible for government social security and medical system benefits. Plus, a small school was started for ages through elementary education levels.
The main road to the nearby city was paved for ease of transportation for the large trucks required to haul the pallets and crates of stones. This allows for better, faster, and easier transportation for other employment opportunities, banking, and larger markets including groceries and clothes.
So how does quarrying contribute to a sustainable Earth? This operation is a great example: a simple small business creating opportunity and turning it into a great and positive change in a remote area.